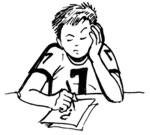 I haven't been as active as I would have liked with this particular blog. Mostly because I've been too busy to write blog entries. So I've decided to tell you what I am up to (and kind of explain why I've been silent).
About three years ago, I was approached to teach live project management courses. I've really enjoyed the teaching aspect although it has been an education in how not to run a business and an education in the training industry in general.  It did take up a large portion of my time but since it helped fund my course development and writing, I didn't mind. Besides, I've met a large number of project, quality, and change managers as a result. And helped more than a few obtain their PMP designation.
In between the downtimes, I've continued to write. I've written two books that grew directly from my teaching a PMP (Project Management Professional) exam preparation course. But I've also had the opportunity to ghostwrite several fiction books (I'm not allowed to say which ones).  I've really enjoyed writing fiction and I'm looking forward to writing more. Hopefully, some under my own name.
As a result, I've had to severely limit my time on other projects.
About a month ago now, I was approached by Shirley Meier (Shadow's Daughter, The Cage, Exodus, and many more) to collaborate with her on a new mystery series set in her beloved Muskoka Lakes district of Ontario. We've started the project and I'm very excited about writing it. I'm already in love with the characters and the story. Not to say that things are perfect. This is my first collaboration and her first with me. So we're feeling our way through the process (her writing method and mine are very different).  But I'm feeling excited both about the book and the writing. We each keep saying we need to finish other projects but we seem to be producing a full day's worth of writing on this book in our spare time. We can't keep doing this but dang it is exciting to watch, and enjoyable to do.
So watch for my new mystery series … due in 2018.